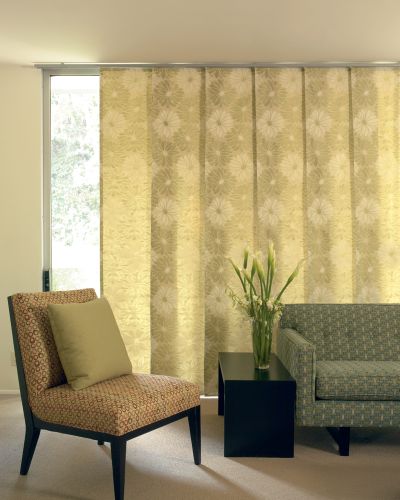 Window treatments for sliding glass doors and extra wide windows can be difficult to dress. Fortunately the sliding panel track system is now hitting the market and you can create panels in natural fibers, synthetics and fabrics that create a clean, simple, up-to-date window treatment solution. Finally something fresh and new!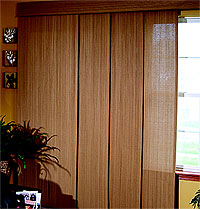 Below is an interesting option from JC Penny's. Fun, hip and inexpensive for those on a TIGHT budget. My only warning is you get what you pay for, so know this treatment won't last forever.
When choosing your window treatment and brand, keep in mind the level of day-to-day wear and tear on the window treatment. For heavy traffic flow consider investing a little more in a quality brand and quality hardware for everyday use. Having said that this is still a very affordable option.
Another consideration is size. If you buy from a department store you will be limited in height and width. I've just ordered a set for a client's house and we chose to select a version that will got to the ceiling in a typical 8ft ceiling room. This will carry the eye up and create the illusion of more height. Also we are carrying the treatment to the edge of the wall which is about 18" from the window jam. Therefore when the panel system is open the panels will stack to the side without interrupting the backyard view. The panels should be installed in about 3 weeks at which time I'll post a picture.